PHYSICAL HISTORY
SPIRITUAL HISTORY
OUR PHILOSOPHY
OUR READINGS
DAILY PRACTICE
HOME PAGE
PHYSICAL HISTORY: (click on picture for large view)

I, Ruth, am English and I, Charque, am American.

We have spent most of our lives together "living on the edge", partly by design and partly by "happenstance". We met in Munich in 1968. It took much to-ing and fro-ing between France, Germany and Italy, by thumb and by bicycle, to complete the requirements for Ruth's degree in languages. We then launched into a year of bicycle camping across Europe. In the summer of 1969 we started from Ruth's family's farm in southwest England and bicycled through to Istanbul, making and selling wire jewelry en route to sustain ourselves. We returned in the summer of 1970 with the same travelers' checks we started with. We came to the United States in 1973 and lived north of Butler, Pa. on an old primitive farmstead without amenities, as part of the 70's b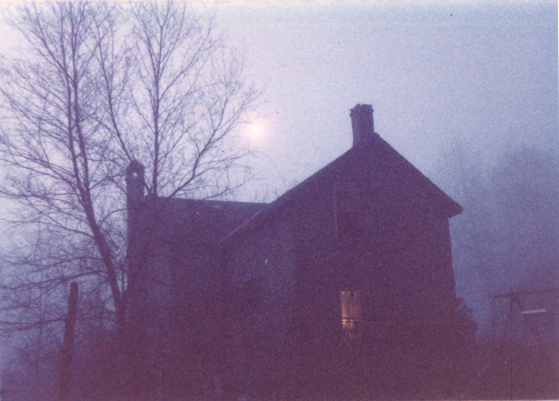 ack to the land

movement. We home-schooled our two daughters, and explored various possibilities of earning a livelihood including trainings as a machinist and an electronics technician. We even tried selling crafts and firewood, but nothing worked until we adopted the path we are now on. GO TO TOP

We first hung out our shingle 'Tarot with Ruth and Charque' at Mandala Books in April of 1995. Since then 'Tarot with Ruth and Charque' has become a known entity in the Tarot world around Pittsburgh. But of course our story starts way before that. Although our travels, hitchhiking and biking, provided a ground work of experience for our spiritual work, our serious metaphysical studies started in 1971 with the Buddhist Society in London. We also began to use the I Ching and the Tarot cards at that time. During this early time period we placed more focus on the I Ching than on the Tarot. (When we chose to shift focus to the Tarot in the early 90's. we found we were interpreting the cards from the perspective of Eastern wisdom as taught by many years of experience using the I Ching as our personal guide. We therefore say the I Ching taught us how to read Tarot.) In 1975, after we came to the USA, we started an I Ching class at the Aquarian Age Bookstore in New Kensington. This bookstore and center, run by Joyce Forbes, has been closed for many years. Joyce was a significant mentor for us and we have patterned some of our concepts of meditation practice and our meditation classes after the Sunday meditations held at the Aquarian Age Bookstore. Since then we have been involved in a number of spiritual and psychic study groups, including a home church. In 1995 we became full time Tarot readers at Mandala Books in Squirrel Hill, Pittsburgh. There we also began to hold weekly classes in Tarot, A Course in Miracles, and Meditation. Pittsburgh Magazine gave us the title of "Best in the Burg 1998", for Tarot reading. In 1999 we opened 'The Upper Room, A School of Mysticism'. Here we did readings and held classes on the various tools we work with. The Upper Room was closed in 2009 when we lost our lease. We now do readings and classes in our apartment in the East End of Pittsburgh. Occasionally we do Lectures for the Pittsburgh Theosophical society. Our most recent lecture was on 'Qabala and the Ten Commandments'. GO TO TOP.
Our philosophy and practice stem from these basic principles or assumptions:
We, as humans, are created in the image of God, the Source or The Big Universe, or whatever name, or lack of name, that you use when referring to the Primum Mobile or First Cause. It is what Seth, in Jane Robert's books, calls "ALL That IS". Therefore, the attributes of divinity, are inherent human properties. As "A Course in Miracles" puts it, "My mind is part of God's, I am very holy". Thus, our capacity to love, our desire to know, and our will to create through manifestation, are our rightful inheritance as "Son-Daughters of the Most High".


Time is an illusion, a dividing of the "Big Now" into perceivable fragments. Therefore, the past, the present and the future are interlocked as one piece. They affect each other and cannot be separated.


All physical existence is polarized along the concepts of receptive and creative. i.e. yin and yang. Change, experience and therefore growth, even the awareness of Self, are impossible without the contrast of polarities.


Thought makes manifest. Nothing physical exists separate from the thought behind it. Thought creates, always. The physical world is only an effect and cannot itself cause anything. It is only a mirror of the psyche.


This is a Free-Will Universe and every event we experience is directly connected to our choices. Every experience is the direct product of our desire and capacity to create.


Each one of us, in choosing to enter the earth's reincarnational cycles for experience and knowledge, has enacted as a mythical image the story of Adam and Eve in the Garden of Eden. We have all, so to speak, "bitten of the apple" or we would not be here.


Reincarnation is a free will process. It allows us to choose the myriad experiences that physical life in the Earth offers. Our reincarnational choices are not limited by the illusions of time and space. We have parallel lifetimes as well as sequential ones, and in the tens of thousands.


Karma is not pay back to the Universe. It is our own judgments that we place on our past life choices and their ensuing consequences. An unconditionally loving universe does not judge, only we do. Jesus's words, "judge not that ye be not judged", take on a new intensity of meaning.
These assumptions lead to a series of conclusions which are applicable to our daily lives. These applications we refer to as the Mirrors of Self (click) . GO TO TOP.
In our readings we examine the experiences of your life as a mirror of your mind, see Mirrors of Self (click) . "A Course in Miracles" states it this way: "I have given everything I see all the meaning that it has for me." (Lesson 2) All physical experiences must be translated into symbols or mythic images in order to understand them from a spiritual perspective. Then you can see their function and meaning in your life as a positive construct. While using Tarot cards as a base, we read your life, your accidents, illnesses, relationships, jobs, dreams etc. We do occasionally bring in the relevance of past lives to the present patterns.
Within a reading, we use and also teach techniques for understanding cycles, mirrors and mythic images. We encourage people to apply them as a daily practice. In effect we not only read people but encourage them to develop the tools and skills to become readers of their own lives and managers of their own mind and thought processes. GO TO TOP.
We believe that meditation is the key to working with and understanding life. We have evolved a form of what we call "Inner Guided Meditation". This is a process of allowing the intuitive mind to take control of the meditation by shifting attention to the inner images, stories, symbols and words which can appear in the course of the meditation. These are often rejected as irrelevant daydreams or imaginings because their meanings are not directly understood. Through interpretive symbolism and gestalt exploration, it is possible to see the relationship between these meditation images and the seemingly chaotic events of outer life. The inner and outer worlds are not separate events but effective mirrors of each other. Thus an understanding of one helps to clarify the other.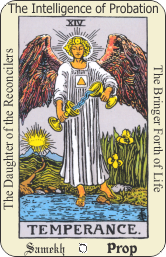 The images and teachings of the various tools of Tarot, I Ching, Runes, Dreams etc. provide a means of focusing the mind and connecting its thoughts with the events of daily life. These tools aid in generating relevant, "mythic" images and translating them into life lessons and spiritual understanding. The picture on the Tarot card of Temperance (healing) is of an angel pouring constantly between the two cups of inner and outer worlds.
We recommend short meditations of 3-10 minutes, (whatever is natural not forced) each morning, often combined with the use of a spiritual tool like Tarot, Runes, I Ching,, Dreams, "A Course In Miracles" etc. When coupled with an evening meditation as a recap of the day (or whatever times are most convenient for you.) this practice becomes a dynamic way of connecting with the soul's quests for that day. This is also one of the best ways to learn a tool. The tool helps you understand the day and the day helps you understand the tool. The tool can then become a live experience instead of an intellectual pursuit. GO TO TOP.